This Too Shall Pass
Stories of Change, Crisis and Hopeful Beginnings
Explore More
About the book
If change is the natural order of things, why do so many people struggle with the milestones of life – from first jobs and first loves to children leaving home and retirement?
We live in a culture of limitless choice - and life is now more complex than ever. In This Too Shall Pass, acclaimed psychotherapist Julia Samuel draws on hours of conversations with her patients to show how we can learn to adapt and thrive during our most difficult and transformative experiences.
Buy the Book
Find out more
About Me
Julia Samuel MBE
UKCP, BACP Acc. Psychotherapist
Julia Samuel is a psychotherapist who has spent the last thirty years working with bereaved families. She has worked both in private practice and in the NHS at St Mary's Hospital Paddington where she pioneered the role of maternity and paediatric psychotherapist. In 1994 she worked to launch and establish Child Bereavement UK as its Founder Patron, where she played a central role until September 2019. Julia was awarded an MBE in the 2015 New Year's Honours list for services to bereaved children. She is the author of two books: Grief Works and This Too Shall Pass.
Find Out More
Susie Orbach
As you read this book, you absorb new and radical ways of thinking about yourself, family and friends. Read it.
Adwoa Aboah
One of the most valuable books I've ever read
Esther Perel
A remarkable portrayal of how we need to understand ourselves to heal
Helen Fielding
Bestselling Author of Bridget Jones's Diary
Julia Samuel describes her patients' stories of loss with great sensitivity and fascinating psychological insight. Essential for anyone who has ever experienced grief, or wanted to comfort a bereaved friend.
Rabbi Julia Neuberger
Rabbi of West London Synagogue and Member of The House of Lords
Intelligent, empathetic, modest, funny and learned
William Boyd
Best selling Author of Sweet Caress
A wonderfully important book and transforming book - lucid, consoling and wise
Cathy Rentzenbrink
The best selling author of 'The Last Act of Love'
'Fascinating. A wise and compassionate book full of insight and understanding that would help anyone experiencing grief, or those surrounding them. I am so glad this book exists.'
Geraldine Thomson
BACP Accredited Counsellor
'Julia brings a keen intelligence and compassionate heart to her work with grief. This shines through in her writing, making this book accessible and invaluable for both the public and practitioners alike.'
Christabel McEwan
UKCP Registered Child Psychotherapist
'A wonderful book, absolutely packed with insights and information that will illuminate this shadowy area of all our lives.'
David Macmillan
Company Director
'This is an extraordinary book.It should be essential reading for every family or friend, everywhere. It is moving, and profound, as well as practical and clear. It is extraordinary how this subject, one which truly does affect absolutely everyone, has never been properly covered before.You must read it.This book will really make a difference to all our lives.'
Bettina Von Hase
Art Consultant
'It is very, very good, and incredibly timely, as there has long been a gap in the market for such an expert book. It is a useful tool for everybody; I wished it had been around when I had my own experiences of loss. The great achievement of this book is its optimism: it makes the necessary connection between loss and life. It is always uplifting to read, never depressing.'
Catherine O'Brien
Interviewer and writer, YOU Magazine, The Mail on Sunday
Julia is just the person to help us all face the inevitability of death. In Grief Works, she invites us into her counselling room where we can sit alongside her, listening to, feeling and unravelling the loss experienced by others. These vivid pen portraits, combined with Julia's wise words, enrich our understanding and soothe our innermost fears. By laying bare the profound pain of grief, Julia ultimately leaves us with the reassurance that no matter how bad it gets, it will also be all right. This book is a truly wonderful, life-enhancing gift for us all.
Juliet Nicolson
Author of The Perfect Summer and A House Full of Daughters
Her exceptional understanding of the way human beings think/love/mourn makes Grief Works an invaluable guide to understanding the complex emotions around death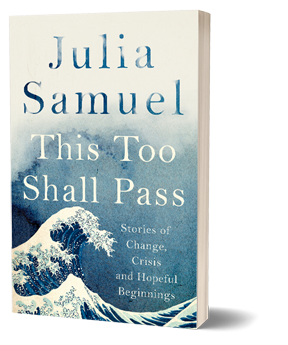 This Too Shall Pass
Stories of Change, Crisis and Hopeful Beginnings
If change is the natural order of things, why do so many people struggle with the milestones of life – from first jobs and first loves to children leaving home and retirement?
Buy the Book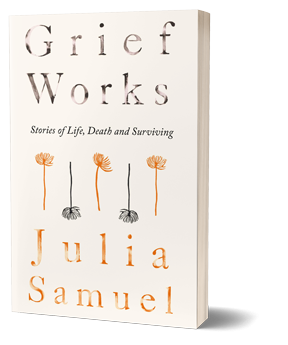 Grief Works
Stories of Life, Death & Surviving
Grief Works is a compassionate guide that will support, inform and engage anyone who is grieving, from the 'expected' death of a parent to the sudden and unexpected death of a small child. It also provides clear advice for those seeking to comfort the bereaved.
Buy the Book
What Helps
Pillars of Strength
These basic guidelines are ways to think about what helps us, at such a difficult time in our life. Grief, whether from death or a living loss, requires the commitment, of regularly doing things that help us, physically and emotionally.
Mobile App
Grief Works Interactive App
Be supported through your grief
Learn how to manage your most painful emotions – from anxiety, to guilt, to anger. Develop everyday routines which ground and soothe you. Discover how to have honest, helpful conversations about death to get the support you need.
Sign up now
Here you can find events that I am presenting or discussing 'Grief Works.' Do please come and join me at them.